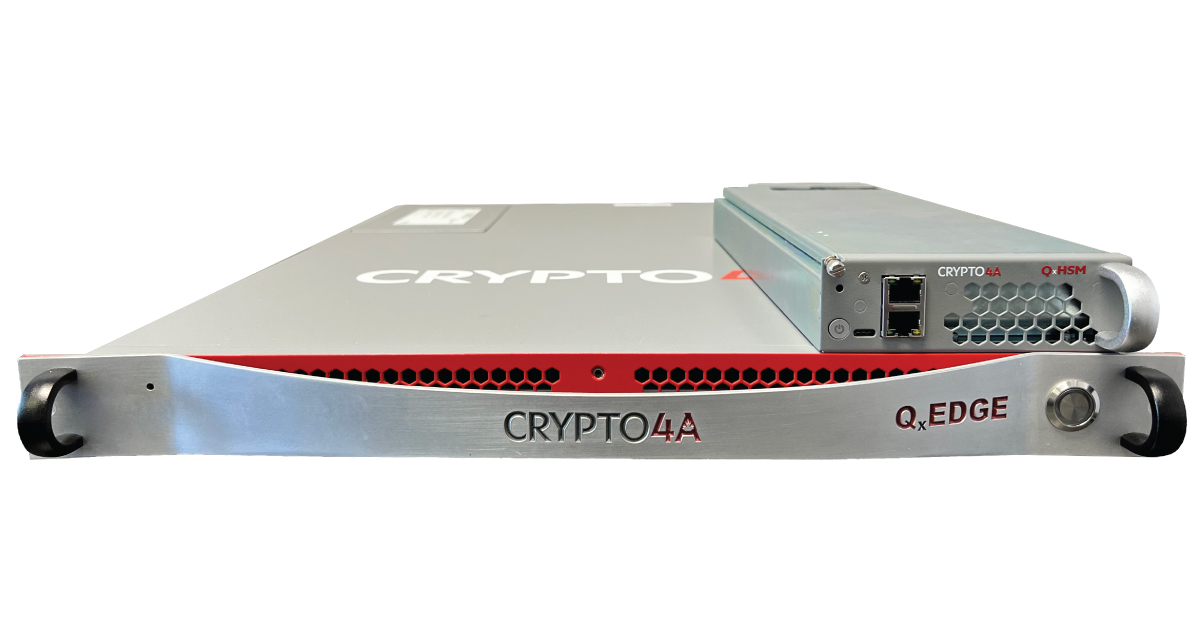 OTTAWA, ON, May 31, 2023 /PRNewswire/ — Crypto4A Technologies Inc. (Crypto4A), a Canadian company, today announced QxHSM™: an industry first fifth-generation Hardware Security Module (HSM) in a revolutionary modular blade form factor that provides operational efficiencies and a lower total cost of ownership. QxHSM™ provides the quantum-safe cryptographic agility, mobility, and scalability needed to keep up with rapid advances in technology, ensures true ownership of cryptographic material without vendor lock in, and supports flexible cloud-scale deployment architectures while adapting to changing markets, standards, and requirements.
The QxHSM™ epitomizes our 'agility-by-design' philosophy. We go beyond addressing just cryptographic agility, we are revolutionizing the concept of agility in HSMs and their roles in today's digital landscape. Our ground-breaking form factor enables various deployment models, providing agile system scalability in terms of both time and space. Thanks to our highly optimized and agile architecture, the QxHSM™ ensures an up-to-date and timely quantum-safe cryptographic security posture throughout its lifespan. We firmly believe that the QxHSM™ will forever redefine the HSM space.

Bruno Couillard, co-founder, and CEO of Crypto4A.
Crypto4A, has announced the launch of the QxHSM, an HSM served up in a blade form factor, designed specifically for server infrastructure deployment. Less complex to deploy than PCIe cards, and less costly than fully-fledged network attached appliances, a blade server is both highly modular and easily manageable from an operational perspective. The best technology in the world can only go so far, and risks remaining the prerogative of the few and knowledgeable if there is no significant improvement from an operational perspective. By making the hardware more accessible and usable, manufacturers can open up the technology to a greater addressable market in the same way that the service opportunity does. The HSM market is certainly set for some more transformative changes, and highly competitive innovation, in the years ahead.

Michela Menting, Senior Research Director at ABI Research
The QxHSM™ blade module is a fully featured network-attached HSM in a reduced footprint that can be deployed in a single module desktop enclosure for smaller deployments (such as offline root applications), a three-module 1U blade server enclosure, all the way up to a high-density ten-module 3U blade server enclosure for data center and cloud deployments. Multiple blade modules and enclosures can be combined for clustering on a highly distributed global scale. The QxHSM™ allows for higher rack density with over 60% space savings compared to traditional network attached HSMs leading to reduced operational costs and optimized use of data centre infrastructure.
Availability
Crypto4A's QxHSM™ is available to early access partners today with general availability in Q1 2024. Technical specifications and capabilities are available to early access clients.
About Crypto4A
Crypto4A Technologies Inc. is a Canadian cybersecurity technology company providing industry leading, fifth-generation quantum-safe crypto-agile Hardware Security Modules (HSM), Hardware Security Platforms (HSP), and PQC Migration Solutions. Its products and solutions provide processing capabilities for classic and quantum-safe cryptography that is built in —not bolted on. Crypto4A enables the cryptographic agility, mobility, and scalability demanded by enterprises and government agencies to secure their digital assets and infrastructure while adapting to changing markets, standards, and requirements.
Contact: John O'Connor, Vice President of Product Management, john.oconnor@crypto4a.com
Read the full PR HERE.